This morning I was mixing up a batch of Taco Seasoning Mix and I had the thought - "doing this takes so little time and yet it so works-for-me." Then I had a slap-my-forehead moment when I realized I should share it with the masses on Works For Me Wednesday.
I only wish I had made a note of where I originally got the idea and the recipe, though we have tweaked it over the years.
It's easy to make.
It's easy to use.
It tastes great.
And you know exactly what's in it...unlike the envelopes...
TACO SEASONING MIX
1 Tbs. Chili Powder
2 tsp. Onion Powder
1 tsp. Cumin
1 tsp. Garlic Powder
1 tsp. Paprika
1 tsp. Oregano (optional)
1 tsp. Sugar
1/2 tsp. Kosher Salt
Mix together.
Store in an airtight Container. (My TW snack cup holds a double batch.)
I believe one batch is about the same amount as one of those envelopes, but honestly, I just eyeball it.
I also typed up the recipe and put it on the fridge so I don't have to look for the recipe when we run out. (Because I'm efficient like that...)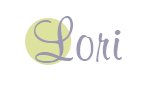 Linked with We are THAT Family - Works For Me Wednesday